Coal Counties
The North Dakota Coal Conversion Counties (CCC) have two members on the Executive Committee of the Western Dakota Energy Association. In 2020, John Phillips, Beulah, and Brad Rinas, Washburn Public School District, are serving on behalf of the CCC.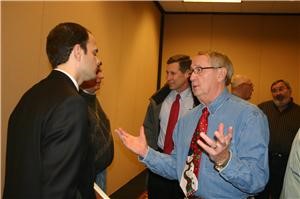 CCC Chairman John Phillips, right, discusses energy and housing issues
with Ryan Bernstein, former chief of staff for Senator John Hoeven.
North Dakota Association of Coal Conversion Counties Board of Directors
Chairman John Phillips, Beulah
- Mercer County City Representative
Vice Chairman Ken Miller, Hazen
- Mercer County School Representative
Secretary-Treasurer Steve Frovarp
- Hazen
Danielle Butler, Center
- Oliver County City Representative
Lee Husfloen
- Oliver County Commission Representative
Nick Klemisch, Garrison
 - McLean County School Representative
Tracy Peterson, Center
- Oliver County School Representative
Darwin Saari, Turtle Lake
- McLean County City Representative
Barry Suydam
- McLean County Commission Representative
Gene Wolf
- Mercer County Commission Representative